The Quest For Overunity
Dear new explorers and experimenters,
Jean-Louis Naudin ( France )
". If we could produce electric effects of the required quality, this whole planet and the conditions of existence on it could be transformed. The sun raises the water of the oceans and winds drive it to distant regions where it remains in state of most delicate balance. If it were in our power to upset it when and wherever desired, this mighty life-sustaining stream could be at will controlled. We could irrigate arid deserts, create lakes and rivers and provide motive power in unlimited amount. This would be the most efficient way of harnesing the sun to the uses of man. " ( Nikola Tesla, June 1919 )
Latest updates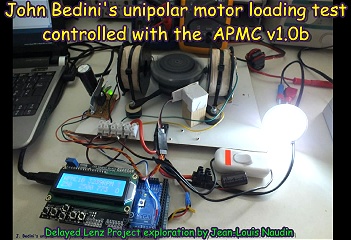 Regenerative Loading with the John Bedini's unipolar motor
Tests en charge du moteur unipolaire de John Bedini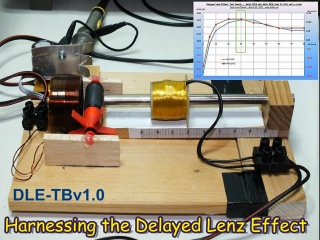 Explorations and experiments of the Delayed Lenz Effect
Explorations et expйriences sur l'Effet Lenz retardй

The Regenerative Acceleration Effect of Thane C. Heins
L'Effet d'Accйlйration Rйgйnйratrice de Thane C. Heins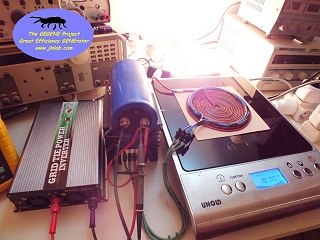 The GEGENE : a Great Efficiency GENErator with a TESLA bifilar flat coil
Le GEGENE, un gйnйrateur йlectrique de puissance.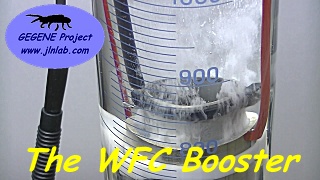 The WFC booster, producing HHO with the GEGENE
Le WFC booster, produire du HHO avec le GEGENE.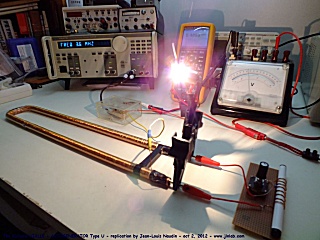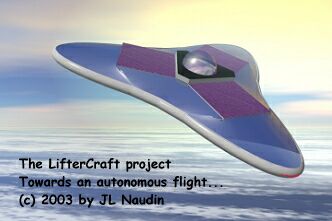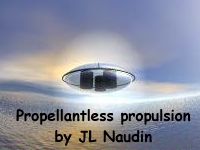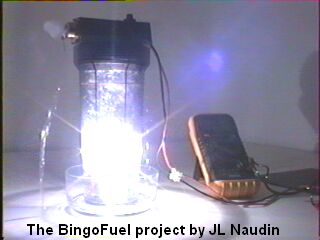 "De l'Atelier au Labo. " ( in French ) : Expйriences et constructions en vidйos
The SMOT : a FREE ENERGY DEMONSTRATOR
"Le chemin qui mиne а la perfection et а l'amour est au fond de nous.
Regarde avec ton esprit, prends conscience de ce qui est en toi depuis toujours, fais usage de ta science, enseigne la,
fais la partager et tu trouveras la voie de l'envol. " Richard Bach << Jonathan Livingston le Goйland >>
Copyright Information
Unless otherwise noted, all materials at this site (including without limitation all text, html markup, graphics, and graphic elements) are copyrighted ©, 1997-2013 by Jean-Louis Naudin. The material available through this site may be freely used for attributed noncommercial educational purposes only. We ask that due credit and notification be given the author.
All materials appearing on this website may not be reproduced, stored in any retrieval system, or used in any way for commercial purposes without the express prior written permission of the copyright holder.
Disclaimer: The author assumes no liability for any incidental, consequential or other liability from the use of this information. All risks and damages, incidental or otherwise, arising from the use or misuse of the information contained herein are entirely the responsibility of the user. Although careful precaution has been taken in the preparation of this material, we assume no responsibility for omissions or errors.
Jean-louis naudin ( france )
LETTER FROM EVAN SOULE; Data from Experimenter Jean-Louis Naudin of France
From: NEN, Vol. 6, No. 6, November 1998, pp. 17-18. New Energy News (NEN) copyright 1998 by Fusion Information Center, Inc.
COPYING NOT ALLOWED without written permission.
ALL RIGHTS RESERVED.
LETTER FROM EVAN SOULE; Data from Experimenter Jean-Louis Naudin of France
Per your request, I am forwarding the following data obtained by experimenter Jean-Louis Naudin of France who has independently constructed one version of a Newman Motor/Generator:
Date: Thu, 9 Jul 1998 07:09:05 EDT
Subject: Newman's Machine V1.4 : A COOLING effect has been observed.
From: Jean-Louis Naudin
07-09-98 — The entropy changes while the Machine runs, a COOLING effect has been observed.
Today, I have conducted a new test about my Newman's machine V1.4. The purpose of this test is to check some eventual changes in the entropy of the Newman Machine.
I have used a dual probes digital thermometer (resolution 0.1 degrees): — The first temperature probe has been used as reference for the lab temp (21.5 degrees) — The second temperature probe has been glued directly on the Newman's coil. I have waited one hour before starting the test for equalizing the temperature (LabTemp = 21.5 degrees, Coil Temp = 21.5 degrees) The test has been conducted during one hour.
The Newman's machine has been stopped after the test (a 60 mn run) and 15 mn after the temperature has been EQUALIZED AGAIN at 21.5 degrees. This confirms the cooling effect observed in spite of the mechanical work generated and the joules' effect dissipated in the coil.
The rotation speed was 286 RPM and the coil voltage used 626 V. The differential voltages I/O measured on the «current control flow bridge» was 32V (Input) and 88V (Output) accross the 2uF cap with my new fast HV diodes.
Very best regards,
Director of Information
NEWMAN ENERGY TECHNOLOGIES CORP.
2050 Vineyard Drive
Castle Rock, Colorado 80104
P.O. Box 57684, New Orleans, LA 70157-7684
P.S. I should add — Joseph Newman has indicated that in the near future he plans to hold a free, public demonstration of his newest Motor/Generator, probably in the Phoenix area.
«I cannot conceive curved lines of force without the conditions of a physical existence in that intermediate space.» — MICHAEL FARADAY
Scientific research frequently entails the fusion of the aesthetic, the creative, and the intellectual. Sir John Meurig Thomas
Jean-Louis Naudin
Paul Pantone: Free GEET plans
PGFED — Some Interesting Web Sites:
Maplin Electronics: Useful catalogue, components, test gear, kits and consumer goods
All Datasheet: Semiconductor data sheets in downloadable 'Acrobat' format
Juha Hartikka: Käytämmekö tulevaisuudessa ilmaista energiaa? Kvanttienergia on uusi tapa lypsää atomia
Energia-alalta tihkuu kummia pikku-uutisia. Jos kehittelyn alla olevat energiatekniikat osoittautuvat käytännössä toimiviksi, ne tulevat olemaan käänteentekeviä sekä ympäristömme että energian edullisuuden kannalta ja lisäksi kaikkien ulottuvilla. Miltä tuntuisi vaikkapa oma pieni voimala, joka tuottaisi ilmaiseksi energiaa talon lämmitykseen? Tai että auto kulkisi tankkaamatta ja saastuttamatta?
JNL Labs — The Vortex Technologies
The Vortex Technologies
created on September 26th, 1999 — JLN Labs — Last update October 15, 2003
User login
Free Energy News from PESN.com
FAIR USE NOTICE: This site may contain some copyrighted material the use of which has not always been specifically authorized by the copyright owner. We are making such material available in our efforts to expose and advance the understanding of the issues covered here. We believe this constitutes a 'fair use' of any such copyrighted material as provided for in section 107 of the US Copyright Law.
The ONLY reason why free energy has been suppressed and forced out by economics, politics and bankers, is because they are operating through fraudulent man-made laws which are at odds (out of balance) with nature. There is no reason that Paul Pantone spent months upon months in a mental hospital by court order for attempting to reduce the footprint we place directly on the face of mother nature and spaceship earth. Wilhelm Reich was unlawfully harassed by FDA/court officials — this again having nothing whatsoever to do with natural law — Wilhelm Reich worked for the benefit and health of all humanity. That John Bedini, Joe Booker, Viktor Schauberger, Thomas Henry Moray and others have been attacked, vilified, threatened, purposefully forgotten and ripped off means that the society and systems that allow this to happen «legally», are frightfully wrong. Thus we need to tear this current system apart from the root and plant a new seed which is in harmony with nature and God's Law. Only by all of us working as aware crewmembers of spaceship Earth — for the benefit of every crewmember, instead of selfishly for ourselves can we ever hope to escape the slavery that we are in right now. Here is Staffan's message:

Jean-Louis Naudin's Blog (48)
Successful test of the Cheerson CX-20 (APM + Arducoper firmware inside)
I have successfully tested the Cheerson CX-20 Auto-Pathfinder (also called the Quanum NOVA). This quadcopter uses an APM v2.52 with the ArduCopter v3.1.2 already installed. It fly very well and all the Arducopter features are working very well.
Above, a video during the maiden flight of the CX-20 has been taken with a GoPro 3 «Black Edition» mounted on the anti-jello mounting…
Low altitude autonomous mission with the MaxiSwift piloted by the ArduPlane v2.73-xp1
The MaxiSwift flying wing has donne successfully a low altitude flight autonomous mission (< 30m AGL) under flight plan piloted by the ArduPlane v2.73-xp1. A color camera onboard with an OSD display in real time the video of the flight and the data on the ground station screen. (Wind 7 km/h, gusting 15 km/h)
A Calmato, an electric powered airplane, piloted by the ArduPlane v2.73-xp1
Here a video of a Calmato Alpha 40, an electric powered airplane, fully piloted by the ArduPlane v2.73-xp1 and tested successfully in flight and in HIL (Hardware In the Loop) simulation on the x-Plane v9.70 simulator.…
Autonomous flight mission with the ArduPlaneNG v2.x R5 and AIOP IMU board on Maxi Swift flying wing
Here a video of an autonomous flight with a Maxi Swift flying wing fully piloted by the firmware ArduPlaneNG v2.x R5 with an All In One Pro (AIOP) full IMU board.This is a porting of the ArduPlane v2 (v2.4+v2.5) firmware and special addons and improvements for the AIOP board that I have added.
The wind was 15 km/h gusting 22 km/h. The flight…
Full autonomous flight with ArduPlaneNG v2.x with an All In One Pro (AIOP) full IMU board
Here a video of a full autonomous test flight of my Easyglider e-Glider piloted by the firmware ArduPlaneNG v2.x R4 and an AIOP (All In One Pro) full IMU board.This is a porting of the official ArduPlane v2 firmware with special addons and improvements for the AIOP board that I have…
Added by Jean-Louis Naudin on August 2, 2012 at 10:48am — No Comments
ArduCopterNG v2.7 tested on All In One Pro (AIOP) with a F450 Quadcopter
Here a video of a test flight of the ArduCopterNG v2.7 with the All In One Pro IMU board (AIOP). The official release of the ArduCopter v2.7 firmware for APM has been ported and tested successfully in flight on a quadcopter with an All In One Pro (AIOP) v1.0 full IMU on board by Jean-Louis…
Added by Jean-Louis Naudin on July 29, 2012 at 10:00am — No Comments
APMRover 2, a fun UGV project for full autonomous recon missions.
[UPDATE: This project is now being ported to a proper Google Code repository and manual. For instructions, start there. You can also join the ArduRover User Group here.]
Hello to ALL, the new…
Full autonomous Cross Country Soaring flights with the ThermoPilot v6.x
Full AUTO-AUTO LANDING with the ArduCopter v2.4xp with a Quadcopter and an Helicopter.
Here some videos samples of 8 full AUTO-LANDING tests flights that I have done with the firwmare ArduCopter v2.4xp1 (JLN mod). I have updated the official ArduCopter v2.4 firmware with a special Auto-Landing mod that I have developped and tested successfully in the previous…
Full autonomous slope soaring with the ThermoPilot v5.2
Here a video a the latest firmware of the ThermoPilot v5.2 (2012 version) which uses a new algorithm (MLA) tested in HIL mode on Xplane v9.70 during a full autonomous slope soaring flight in high mountains. The ThermoPilot is a full enhancement of the ArduPlane v2.28 which adds the Thermal Hunting capabilitie and some…
ArduPlane v2: Full autonomous flight HIL simulation of a Nimbus 4m electro-glider drone
Here a video of the test of a Nimbus 4 meters wingspan electro-glider piloted by the firmware ArduPlane 2.28xp1 (updated version with a JLN mod). Test done in HIL mode with the AeroSIM-RC v3.83 simulator connected through the AP Mission planner v1.1.30 on an ArduPilot Mega board v1.
ArduCopter with the APM v2: Long duration LOITER test (GPS position Hold) with the firmware v2.2 B4xp1
Here a video of a long duration LOITER (GPS position Hold) with my QRO quadcopter piloted by the ArduMega v2 board and the firmware ArduCopter v2.2 B4xp1 (with JLN mod). The flight is very stable and secure.…
ArduCopter in Action — Flying an Helicopter in HIL mode
Here a video about the HIL tests of the firmware ArduCopter v2.2 b2xp2 (with JLN updates) with an Helicopter in H1 mode (Raptor 30 type) on the AeroSIM-RC simulator.
The tested features are:
— LOITER mode (GPS position Hold),
— RTL (Return To Launch),
ArduCopter in action: Testing the QuadCopter (HIL mode) on X-Plane v9
ArduCopter in action: Testing the QuadCopter (HIL mode) on X-Plane v9
Here a video a the ArduMega board (2560 or 1280) with the firmware ArduCopter v2.1.1b (JLN update for X-Plane) connected on the X-Plane simulator throught the APM Planner in HIL mode. The QuadCopter QRO has been modelized for X-Plane v9.0 (or greater) so as get a closest replication of a true QuadCopter UAV.
This is a very good method for testing all the features of the ArduCopter…
ArduCopter v2.1 firmware: Full test flight
In this video you will find a full test of the ArduCopter v2.1 that I have done with my QRO (Quad Rotor Observer) done on december 17, 2011.…
Here a video of a full autonomous navigation in AUTO mode of the QRO (Quad Rotor Observer) with the firmware Arducopter v2.0.56a. The waypoints have been recorded in flight with the Switch on Ch7.
Successful tests of modes: ALT_HOLD, LOITER, AUTO, WP_SAVE, STABLE, SIMPLE.
The heading is locked with the help of a 3 axis magnetometer, the altitude is only locked by a barometric pressure (no…
ArduCopter V2 in Action — Full autonomous flight
Here a video of a new serie of tests of my quadcopter (QRO) during a full autonomous flight in RTL and LOITER mode (GPS position Hold) with the firmware Arducopter v2.0.54 + stability patch. The altitude is only locked by a barometric pressure (no sonar and no optical flow sensor).
The quadcopter autonomous flight is really stable and safe, the Jason' stability patch on the…
Successful tests flights of the ArduCopter v2.0.51
Hello to All,
I have done successful tests flights with the version of the ArduCopter v2.0.51 (original firmware version, not modified). I have used a hands build quadcopter frame (550 mm wide) . In spite of the windy and gusty weather (wind 18 Km/h gusting 22 Km/h), I have been very suprised by the stability of my quadcopter with this new firmware (thanks to Jason and to the DIY Drones team).…
Full autonomous flights of the MAJA drone with ThermoPilot v5
On october 1st, 2011, my MAJA drone has done successfully a full autonomous flight under flight plan with the ThermoPilot v5, an updated version of the Arduplane v2.23. The video of the flight is recorded with a GO pro HD wide on board. This test flight is a part of my ThermoPilot project (Autonomous Thermal Hunter glider).
The flight of the real…
ThermoPilot project: a Thermal Hunter Glider drone
This project has been started in october 2010 and its purpose is to build a full autonomous Thermal Hunter Glider which is able to fly for a long duration in an area defined by a radius, a ceiling and a minimal altitude. The glider uses thermal soaring and dynamic soaring methods commonly used by full scale gliders during cross country soaring competitions.